$45 EYE EXAMS
AT HEARTLAND VISION
Affordable and comfortable eye exams
Early detection and diagnosis of vision problems are crucial to preventing complications to your vision over time. Eye exams are a quick, painless and cost-effective way to know the status of your eye health.
Even if your vision is currently in good health, preventative health care like eye exams is essential to avoiding future vision loss and other eye health issues.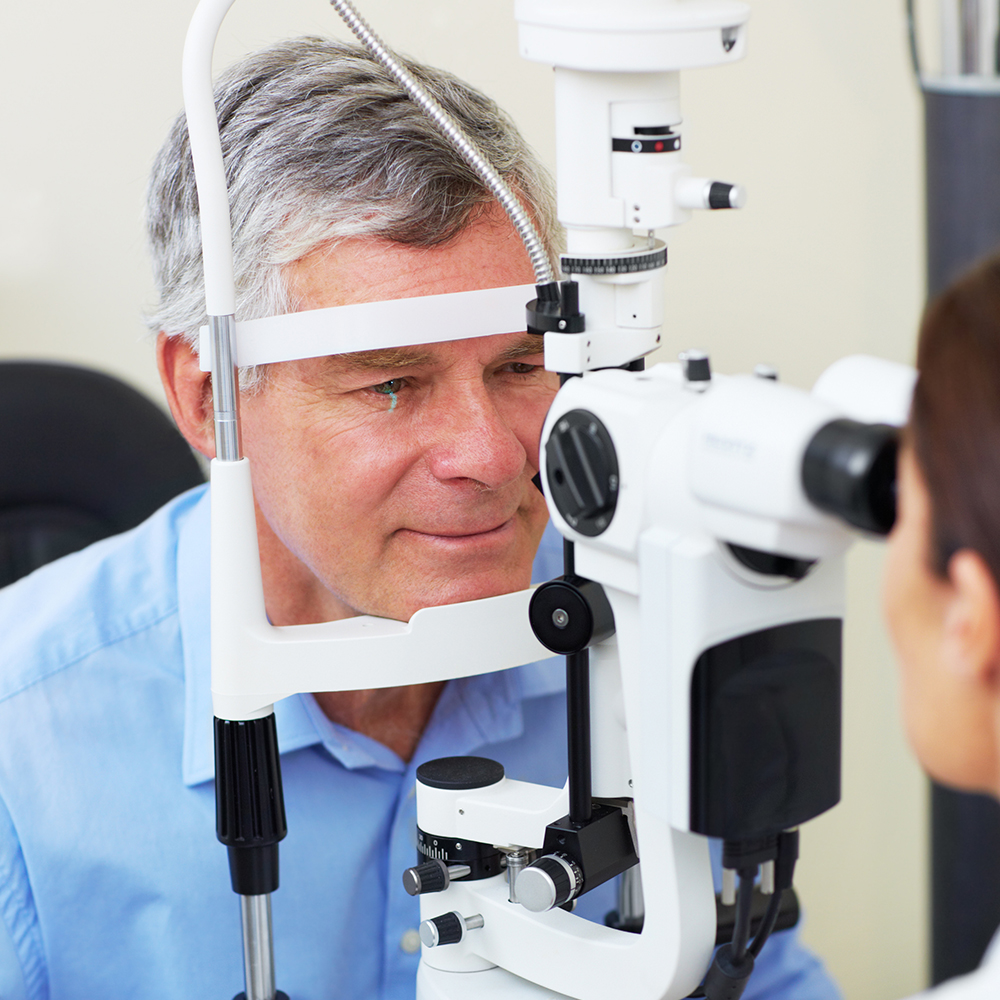 WHY ARE EYE EXAMS SO IMPORTANT TO MY HEALTH?
A significant amount of eye diseases don't present with obvious symptoms and can lay dormant for a long period of time. You may not notice a problem with your vision until it's too late and a serious problem has developed. One common instance of this is Glaucoma, which is known for a silent progression until permanent vision loss occurs.
By receiving regular eye exams, optometrists can evaluate the blood vessels in your retina for any warning signs of systemic disease and other complications. Routine eye checkups reveal many health problems including cancer, hypertension (high blood pressure), diabetes and more.
You may even be unaware that your vision is not perfect. This is especially prominent among children who may be having difficulty in school, sports, and other social situations.
Heavy and frequent use of technology like smartphones and computers can lead to digital eye strain (aka computer vision syndrome). Symptoms from looking at a digital screen for too long may include headaches, blurred vision, dry eyes or neck, and shoulder pain.
Regular eye checkups will prevent or reduce the effects of digital eye strain and prevent long term damage. Our eye doctors can prescribe lenses that are specifically made to combat long exposure to digital screens to keep your eyes comfortable and in focus all day.
Your vision will likely deteriorate and worsen with time. Regular eye exams for renewed prescriptions will keep your vision healthy and focused.

Early detection and prevention of serious eye problems

Keep your vision healthy and focused throughout your life
WHAT HAPPENS DURING AN EYE EXAM?
Factors like your overall health, prior visits, and current symptoms all go into account when determining what tests will happen during your next eye exam. Generally speaking, the following occurs during your typical adult eye exam:

PATIENT HISTORY
The gathering of relevant symptoms and history of your health is essential to determine what issues we need to look for as well as how to treat you. This info includes any vision symptoms you are experiencing, eye injuries, medications, a family history of diseases like hypertension and diabetes, and any potential environmental causes your work or home may have.

VISION TESTS
Also known as a visual acuity test, eye charts are used to measure your eye strength at near and far distances. Other tests that you may experience will measure depth perception, color vision, peripheral vision, eye muscle function, and how pupils respond to light.

REFRACTION
Your optometrist will have you look through a series of different lenses asking you which of the two choices is clearer. This allows your eye doctor to get the most accurate prescription for your eyes to correct problems like nearsightedness, farsightedness, and astigmatism.

KERATOMETRY
The reflection from a circle of light off your cornea (the clear outer part of your eye) is measured to determine the right fit for contact lenses. It also allows your eye doctor to measure the outer contour to measure astigmatism.

TONOMETRY
An instrument releases a small puff of air into the eye as a sensor measures the corresponding indentation on the surface of the eye. This tests your eye to ensure a buildup of pressure has not occurred. Eyes continually produce and drain clear fluid from the eye. If drainage is not occurring as it should, it can cause a pressure buildup and damage the optic nerve, causing Glaucoma.

EYE MOVEMENT TESTS
This test assesses how efficient your eyes are able to adapt to a change in focus and move together in unison (aka eye teaming). Evaluating your eye movement can help your optometrist identify issues impacting your focus or binocular vision.
DILATION
Eye drops are used to dilate your pupils which will give your optometrist a better view of your eye structures including your retina, optic never and more. Dilation-free retinal imaging may be available as an alternative to eye drops (not available at all locations).

CONTACT LENS EXAMS
A contact lens exam and fitting are required in addition to a standard eye exam if you wear or want to wear contact lenses. Special tests are administered to measure your pupil and iris, map your cornea, and evaluate your tear film. Your eyes will also need to be checked for damage and changes contact lens use might have caused.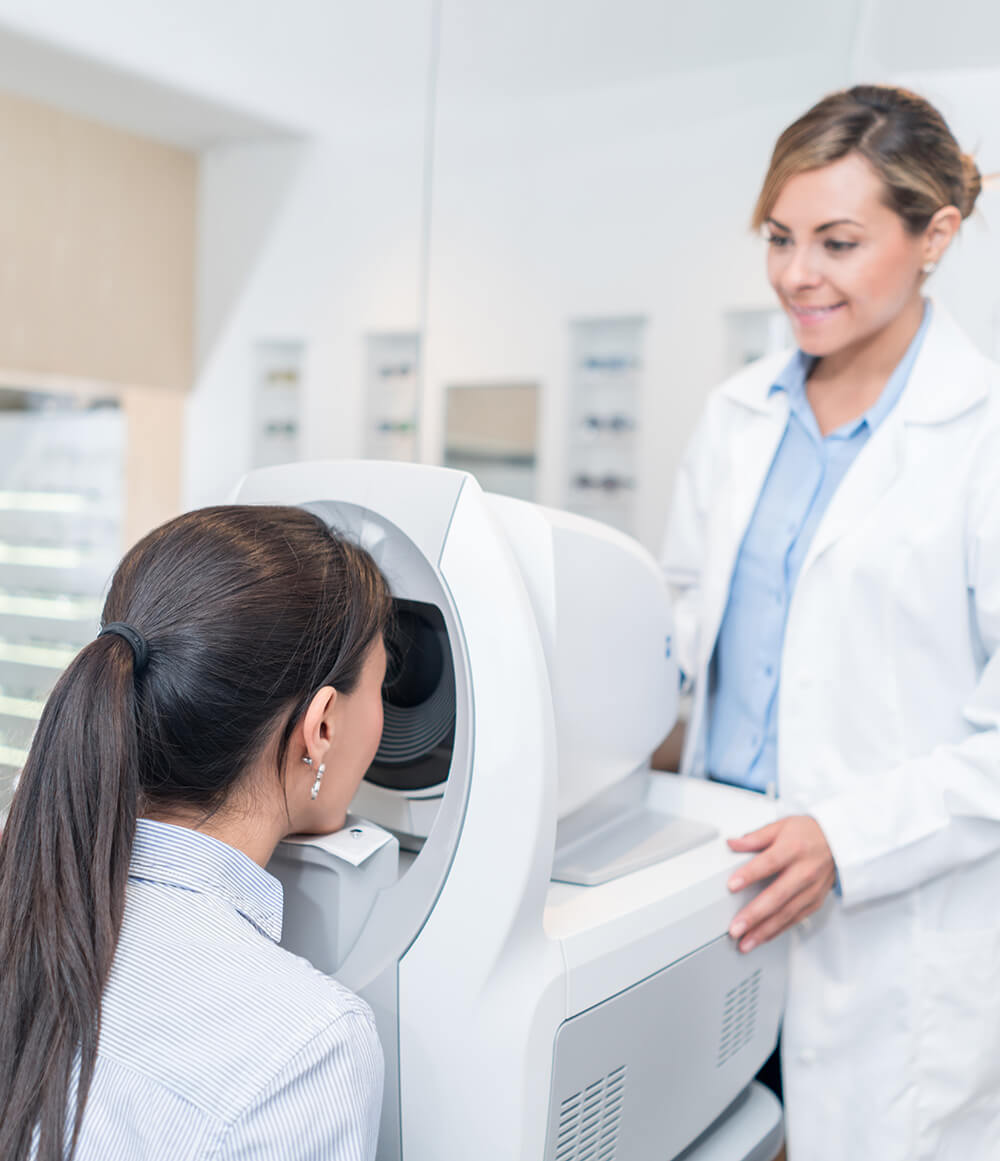 HOW FREQUENTLY SHOULD I GET MY EYES CHECKED?
For people with no signs of eye or vision problems, the American Optometric Association recommends the following guidelines:
Age
Eye exam frequency
6 - 24

MONTHS

First exam at 6 months*
2 - 5

YEARS

At age 3, and again before starting 5k
6 - 18

YEARS

Once a year
19 - 60

YEARS

Every 1-2 years or as recommended by doctor
60+

YEARS

Once a year
*Our doctors provide eye exams for children aged 3 and older. For children younger than 3, please contact us for a referral.
If you have a family history involving chronic diseases like diabetes or glaucoma, you may need to schedule more frequent eye checkups.
If any of the following are true, you should schedule an eye exam ASAP:
You don't recall when your last eye exam took place
You are regularly exposed to a computer, tablet, smartphone or other digital screen for extended periods of time
You experience headaches, squinting, or blurred vision
It's difficult to drive at night
You've noticed a sudden increase in 'floaters', spots, or bright flashes
You experience chronic eye pain, redness, dryness, itching, discharge or irritated skin around the eyes
You've sustained an injury to the eye itself or the area around the eye
Any significant changes in your vision could indicate a serious problem. If this is occurring, you should see an optometrist right away. Don't hesitate so the issue can be identified and treated early on with more success.
HOW MUCH DOES AN EYE EXAM COST?
We're currently offering extensive eye exams for only $45 at all Heartland Visions locations in Indiana, including contact lens exams!
HOW MUCH WILL MY INSURANCE COVER?
The majority of vision insurance plans will cover all or most of the cost for your recommended yearly eye exam. Insurance plans will sometimes pay for part of your eyeglasses or contact lenses too.
Your medical insurance may also be billed in addition to your vision insurance if you have certain medical conditions like pink eye or glaucoma.
Heartland Vision accepts a huge amount of vision insurance carries to ensure you're getting the most out of your vision insurance or union health & welfare plan. We even provide a free coverage check to verify you're getting the maximum benefits from your insurance. If your insurance plan doesn't cover everything, we'll break down exactly what those out of pocket costs entail so you don't have any surprises when the bill comes.
Heartland Vision certified opticians are well versed with the techniques insurance providers employ to limit their own costs. As such, they are knowledgeable enough to help you get the most out of your vision insurance, union health & welfare plan, HSA (Health Savings Account) or flex dollars.
WHAT IF I DON'T HAVE INSURANCE?
If you don't have insurance you are still qualified for our services. Many of our valued patients do not have vision insurance and are still able to get affordable extensive eye exams. We'll lay out all the options for you whether you have insurance or not and get you set up with an affordable payment plan you can manage.